The Paco's Prayer
The Paco's Prayers
Are very sacred prayers spoken to the Universe by shamans in Peru and placed into a Despacho. This ancient offering is creating a sort of mandala, energy bundle of prayers– expanding out into the Universe.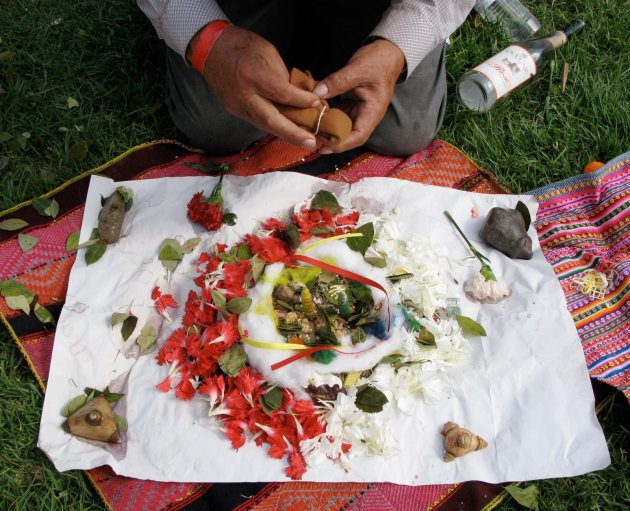 Traditionally 3 coca leaves (representing the 3 worlds, upper, middle and lower) are used to place prayers into, making them an offering to speak to the various kingdoms surrounding us.
Flowers and llama fat create little flowerettes upon the coca trinity, and are the simplest variation of a Despacho.

There are many blends of practice in Peru which have folded into this tradition– from the Amazon to the high "Alti Plano"– other influences have found their way into this rich tradition of the Despacho blessing.

How to have a Paco Prayer for yourself, a friend, the world, the Universe
Donation Payment: $7 each
Please know, your donation/ payment will go directly to the Pacos.
By May 1, Please send me via email, your short note/prayer either asking for healing of yourself, another, or for the planet. This deep connection of the Pacos have to the unseen world is powerful medicine to bring harmony and balance to those and their families in attendance, or for those making a prayer offering.

I am honored to be trained this beautiful ancient medicine way, I am a Mesa carrier of the Pachakuti Mesa tradition, and I am thrilled to bring more prayers from my friends, near and far, out into to the Universe to hear.

Short, clear, and sweet is best.
You can group prayers in your email (lke the example below) is you would like more than one.
Do place full name and location of person for a healing.
Please remember $7 per prayer, or 10 for $60.

Examples:
Prayers from: Olivia Olkowski (add your name here)
"Heal stomach cancer for John E. Smith, NY NY"
"Bring healing to the waters of the Earth"
"Remove abusive patterns from the John E. Smith family, Buffalo NY"
"Save the endangered animals of our planet"
"Balance the earth's energy from Fracking toxicity"
"May the soul of Betty Smith, San Francisco, CA find peace"
"Strengthen my heart so as not to be in judgement of others"
"Heal deep wounds of my abusive childhood, Mary Smith, Brooklyn NY"
"Allow love back into my heart and life, Mary Smith, Brooklyn NY"

Your prayers sent to me will be placed into a Despacho during our sacred trip. It will be burned by a fire, or placed into the earth for her to consume and have healing.
We will have time sitting and learning with the Paco's May 14-19th, most likely we will have the ceremony on May 16th or 17th. If having a healing asked for, you may feel things happening to your body or emotions may arise as the despacho burns away energies, let it all flow ouy of you.

Deadline: April 30th
(Since I will be heading out of town with little computer access after April 30th)
I will be able to check my emails again on May 13, for any last minute prayers.

No limit to how many prayers you wish the Universe to hear.

Please send your prayer text into an EMAIL to myself along with making your payment(a) for each online. Please also have your name forwho is placing the prayer(s).
SEND YOUR HEALING PRAYER LIST HERE: